Treatment options: metal braces, ceramic braces, Invisalign or clear aligner treatment and lingual braces.
For the vast majority of orthodontic patients, wearing fixed appliances (commonly called braces) will be a major part of treatment — and those braces, for the most part, will be the familiar silvery-metal type. But while they're still quite popular, traditional-looking metal braces are no longer the only game in town! Let's have a look at some of the options available in orthodontic appliances.
First, we should distinguish between fixed and removable appliances. Fixed appliances like braces are attached to the teeth by metal bands or special cement. They aren't normally taken off until treatment is complete. Removable appliances, such as clear aligners, are typically worn some 22 hours per day, but may be easily taken off as needed. While clear aligners can be effective in treating mild to moderate orthodontic problems, fixed appliances are generally needed for more comprehensive treatment.
Metal Braces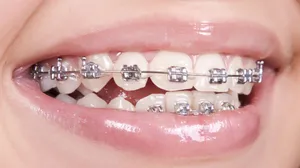 Typically made of high-grade stainless steel, traditional metal braces remain by far the most common type of fixed orthodontic appliances. They consist of metal bands that wrap around the molars in back, and smaller metal brackets that are cemented to the front surfaces of the other teeth. A thin, springy metal wire, running through the brackets, gently guides the teeth into a proper position. This archwire may be fixed to the brackets by flexible elastics, metal ties, or other types of clasps.
There are many good reasons why time-tested metal braces remain popular — because they offer a reliable, effective and economical treatment option. In contrast to the appliances of the past, today's braces are actually smaller, lighter, and more comfortable to wear. If you want a less traditional look, you may be able to choose colorful elastics for the brackets, or other modifications.
Ceramic braces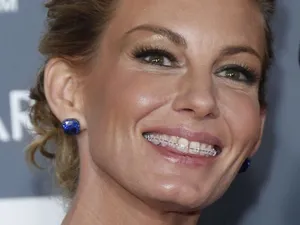 Clear ceramic braces are a new variation on the traditional system that provides a far less noticeable method of treatment. They use the same components as traditional braces — except that the brackets on the front side of the teeth are made of a translucent ceramic material that blends in with the tooth's natural color. This system has become a favorite for adults (including some well-known celebrities) because, unless you look closely, it's hard to notice they're there.
Several types of ceramic braces are currently available, and the technology is constantly improving. Their aesthetic appeal is undeniable... but there are a few tradeoffs. The ceramic brackets can be less durable than their metal counterparts; plus, while the brackets themselves don't stain, the elastic bands that attach them to the archwire do (however, these are generally changed each month). Ceramic braces also cost more than metal — but for many people, the benefit of having a less conspicuous appliance outweighs the costs.
Invisalign or Clear Aligner Therapy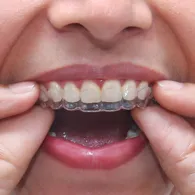 Invisalign is a series of clear aligners made of almost invisible polyurethane plastic. Rather than being cemented or bonded to the teeth as metal or clear braces are, clear aligners are removable — for important social occasions, for eating, and for tooth-brushing and flossing. This advantage can also be a disadvantage: It means you must resist the temptation to take your aligners out more than is advised. Here are some other advantages of clear aligner therapy:
Oral Hygiene — With an orthodontic appliance that is removable, you will be able to clean your teeth more easily than if you were wearing metal braces.
A Discreet Look — If you consider your orthodontic treatment to be a private matter, or simply feel that metal braces don't fit with your self-image, a practically invisible form of orthodontic treatment might suit you.
More Dietary Choices — To protect metal wires and braces, some diet modifications are necessary. With clear aligners, you can still bite into an apple or a crispy pizza crust.
Comfort — The thin, flexible material of which Invisalign is made will not irritate the soft tissues of the mouth.
Teeth-Grinding Protection — If you have a teeth-grinding or clenching habit, clear aligners can function as thin nightguards that will protect your teeth from wear.
Nevertheless, there are still many situations for which traditional braces are the best. We will evaluate your own individual needs and discuss in detail the pros and cons of available treatment options.
Lingual Braces
While ceramic braces certainly offer a less conspicuous look, there is still another system that allows fixed braces to be truly invisible. In some situations, special appliances called lingual braces can be placed on the tongue side of the teeth. They work the same way other metal braces do — but even though they're made of metal, they can't be seen, because they're hidden behind the teeth themselves.
Lingual braces aren't the proper treatment for every orthodontic condition. Special training is required and they are significantly more expensive than standard braces. They also generally require more time for the wearer to get used to them and they tend prolong treatment. But if you want the least visible type of fixed appliance — and if you're a candidate for this treatment option — then lingual braces may be just what you're looking for.
Downloads
Instructions for Wearing Rubber Bands
Adobe PDF Format, 27kb
Instructions Following the Placement of Orthodontic
Adobe PDF Format, 25kb
Related Articles