Bonded Versus Removable Retainer After Braces
By Sappington Orthodontics
February 12, 2018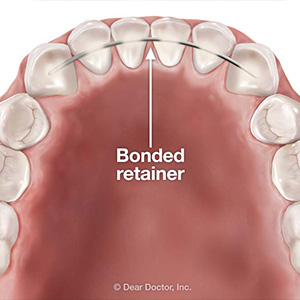 A lot of time and effort goes into straightening your smile. But there's a possibility it might not stay that way—and all that hard work could be lost. The same natural mechanism that enables your teeth to move with braces could cause them to revert to their old, undesirable positions.
So you will need to wear a retainer, an appliance designed to keep or "retain" your teeth where they are now. And while the removable type is perhaps the best known, there's another choice to discuss with us: a bonded retainer.
Just as its name implies, this retainer consists of a thin metal wire bonded to the back of the teeth with a composite material. Unlike the removable appliance, a bonded retainer is fixed and can only be removed by an orthodontist.
Bonded retainers have some advantages; since it's fixed in place, it might be helpful with some younger patients who need reminding about keeping their retainer in their mouth.
There are, however, disadvantages. It's much harder to floss with a bonded retainer, which could increase the risks of dental disease. It's also possible for it to break, in which case it will need to be repaired by an orthodontist and as soon as possible. Without it in place for any length of time the teeth could move out of alignment. We have found that with bonded retainers present, a patient sometimes decides on their own that they need not wear the removable. This sets up the very real possibility of tooth movement and additional treatment.
If you or a family member is about to have braces removed, you'll soon need to make a decision on which retainer to use. We'll discuss these options with you and help you choose the one—removable or bonded—that's right for you.
If you would like more information on bonded retainers, please contact us or schedule an appointment for a consultation. You can also learn more about this topic by reading the Dear Doctor article "Bonded Retainers: What are the Pros and Cons?"