Sappington Orthodontics Blog
Posts for category: Dental Procedures
By Sappington Orthodontics
February 12, 2018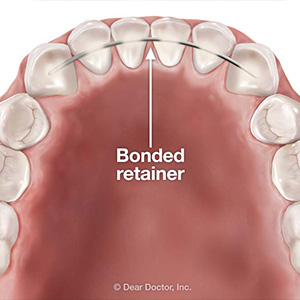 A lot of time and effort goes into straightening your smile. But there's a possibility it might not stay that way—and all that hard work could be lost. The same natural mechanism that enables your teeth to move with braces could cause them to revert to their old, undesirable positions.
So you will need to wear a retainer, an appliance designed to keep or "retain" your teeth where they are now. And while the removable type is perhaps the best known, there's another choice to discuss with us: a bonded retainer.
Just as its name implies, this retainer consists of a thin metal wire bonded to the back of the teeth with a composite material. Unlike the removable appliance, a bonded retainer is fixed and can only be removed by an orthodontist.
Bonded retainers have some advantages; since it's fixed in place, it might be helpful with some younger patients who need reminding about keeping their retainer in their mouth.
There are, however, disadvantages. It's much harder to floss with a bonded retainer, which could increase the risks of dental disease. It's also possible for it to break, in which case it will need to be repaired by an orthodontist and as soon as possible. Without it in place for any length of time the teeth could move out of alignment. We have found that with bonded retainers present, a patient sometimes decides on their own that they need not wear the removable. This sets up the very real possibility of tooth movement and additional treatment.
If you or a family member is about to have braces removed, you'll soon need to make a decision on which retainer to use. We'll discuss these options with you and help you choose the one—removable or bonded—that's right for you.
If you would like more information on bonded retainers, please contact us or schedule an appointment for a consultation. You can also learn more about this topic by reading the Dear Doctor article "Bonded Retainers: What are the Pros and Cons?"
By Sappington Orthodontics
January 20, 2018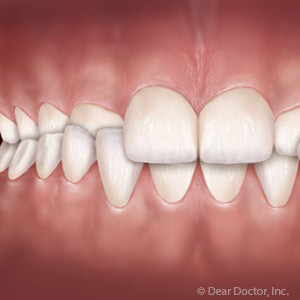 Poor bites, also known as "malocclusions," can have a dramatic impact on mouth function and appearance. Moving teeth to better positions will solve most of these bite problems — but not all.
A case in point is a malformed maxilla, the skeletal structure formed by the union of the upper jaw and the roof of the mouth (the palate). If the rear portion of the maxilla develops too narrowly, the back teeth will bite abnormally inside the lower teeth while the front teeth bite normally, creating what's known as a crossbite. People with this kind of malocclusion often shift their lower jaw to one side to bite down completely.
This can be corrected without too much intervention if the problem is diagnosed while the person is young. This is because the maxilla is actually formed from two bones that don't completely fuse together in the center of the palate until just after puberty. An orthodontic appliance known as a palatal expander takes advantage of this slight gap. The metal appliance is placed along the narrowed portion of the palate in the rear of the mouth: four metal "arms," two on each side, attach to the inside of the back teeth with a tension device between them that extends the arms outward to put pressure against the teeth.
Every day the patient or a parent uses a special key to turn the tension device and cause it to expand slightly, placing additional outward pressure on the jaw. This will widen the gap in the center of the palate and new bone will grow to fill in the increased space. Over time this will cause the rear portion of maxilla to widen.
While effective, a palatal expander may not work in every case, and it must be done before the two bones fuse permanently. When it can be used, though, it's a proven treatment that can restore proper bite function, as well as improve your child's smile.
If you would like more information on palatal expanders to correct certain bite problems, please contact us or schedule an appointment for a consultation. You can also learn more about this topic by reading the Dear Doctor magazine article "Palatal Expanders."
By Sappington Orthodontics
October 07, 2017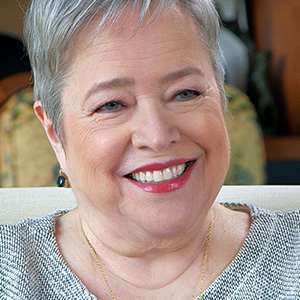 Academy Award-winning actress Kathy Bates knows how important it is to present your best face to the world — and one of the most important features of that face is a beaming smile. But there came a point when she noticed something was a little off. "I've always had good teeth, but it seemed to me as I was getting older that they weren't looking as good," Kathy explained in a recent interview with Dear Doctor magazine.
That's when she decided it was time to take action. Kathy had orthodontic treatment when she was in her fifties, and she keeps her smile bright with tooth whitening treatments. She uses a kit provided by her dentist with a safe, effective whitening solution.
Of course, a bright, healthy smile looks great anywhere — whether you're on the red carpet or "off the grid." And you don't have to be a Hollywood star to have professional whitening treatments. In fact, teeth whitening is one of the most popular and affordable cosmetic treatments modern dentistry offers.
The basic options for professional teeth whitening include in-office bleaching or take-home kits. Both types of dentist-supervised treatments offer a safe and effective means of getting a brighter smile; the main difference is how long they take to produce results. A single one-hour treatment in the office can make your teeth up to ten shades lighter — a big difference! To get that same lightening with at-home trays, it would take several days. On the plus side, the take-home kit is less expensive, and can achieve the same results in a bit more time.
It's important to note that not all teeth can be whitened with these treatments. Some teeth have intrinsic (internal) stains that aren't affected by external agents like bleaches. Also, teeth that have been restored (with bonding or veneers, for example) generally won't change color. And you can't necessarily whiten your teeth to any degree: Every tooth has a maximum whiteness, and adding more bleach won't lighten it beyond that level. Most people, however, find that teeth whitening treatments produce noticeable and pleasing results.
What about those off-the-shelf kits or in-the-mall kiosks? They might work… or they might not. But one thing's for sure: Without a dentist's supervision, you're on your own. That's the main reason why you should go with a pro if you're considering teeth whitening. We not only ensure that your treatment is safe — we can also give you a realistic idea of what results to expect, and we will make sure that other dental problems aren't keeping you from having a great-looking smile.
How often does Kathy Bates see her dentist for a checkup and cleaning? "I go about every four months," she noted. "I'm pretty careful about it." And if you've seen her smile, you can tell that it pays off. If you would like more information about teeth whitening, please contact us or schedule an appointment. You can learn more in the Dear Doctor magazine articles "Important Teeth Whitening Questions Answered" and "Teeth Whitening."